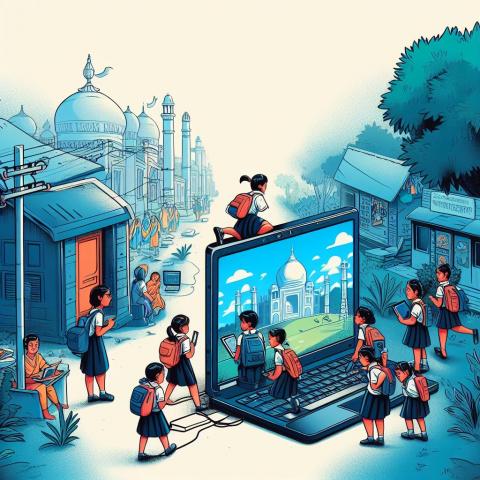 Closing the Digital Divide: A Prerequisite for Online Learning
With the rising levels of pollution in Delhi and the National Capital Region (NCR), an advisory has been issued to shift schools to virtual mode. Over the past three years, since the onset of the pandemic, online schooling has become a reality. It has also sparked a debate about the effectiveness of online education. However, the reality of the hour is that schools are often advised to switch to the online mode during extreme weather conditions and other emergencies. One can anticipate that this trend will continue to increase in the coming years, necessitating a greater need for online schooling. I do not discourage the debate around it. What is more important at this point is that the government needs to invest heavily in digital infrastructure for online education.
If left solely to the capacity of parents, it will create a significant divide, which is already noticeable. For a large number of children attending government schools, access to digital devices is very limited. Data is not as affordable as it is claimed, and digital devices capable of supporting audio-visual materials required for online education are not affordable for many.
The government, as it appears, has been investing in the supply side of digital infrastructure. Both the central and state governments are heavily investing in creating a digital infrastructure to support online education. The Government of India has made significant investments in developing digital infrastructure for education in recent years. This includes providing schools with computers, internet access, and digital learning resources. The government has also launched several initiatives to train teachers on how to use technology in the classroom. One of the most significant initiatives is the DIKSHA platform, which provides free, high-quality digital content for students and teachers from grades 1 to 12. DIKSHA includes e-textbooks, videos, audio lessons, and interactive exercises, available in over 30 Indian languages. Another important initiative is the PM e-Vidya program, aiming to provide digital education to all students in India. This program includes several components, such as the DTH TV channel Swayam Prabha, which broadcasts educational programs for school and college students and provides access to online courses and other digital learning resources.
What is crucial to highlight is the need to invest in the demand side as well. We must ensure that every child, regardless of their socio-economic status, has access to a high-quality internet-enabled digital device. Otherwise, what is considered a great equalizer can create the widest divide in terms of access to quality education. Evidence of this divide is already visible. If immediate steps are not taken to bridge this gap, it will be too late. In the absence of access to a digital device, online education for government school children is, in reality, no schooling at all, resulting in a great loss for them.
Whether it is deemed good or bad, online education appears to be an irreversible process. Only 34% of schools in India have internet access, and more than 50% do not have functional computers. Among the various states, Delhi has scored the highest with 100% in both internet accessibility and functional computers. However, this data primarily addresses access to digital infrastructure at the school level, while for online education, we also need to consider the digital infrastructure in the homes of children. The government needs to prioritize this and make appropriate provisions in the budget to bridge this gap as soon as possible. Otherwise, in the name of providing online education for the poor and deprived, we are essentially serving school closure.