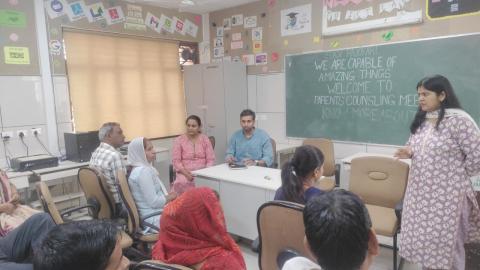 Navigating the Digital Dilemma: Insights from the Mega PTM
The two-day historic mega parent-teacher meeting concluded yesterday in Delhi's government schools. This event holds great significance for the school, featuring a welcoming school environment, informative sessions led by teachers, and the customary interactions between teachers and parents. During these conversations, parents discussed their children's academic performance, the need for regular school attendance, and so on.
What struck me was a common concern raised by many parents regarding the excessive use of phones by their children at home, under the pretext of completing school assignments. While one parent posed this question, others attempted to offer solutions. "Set a limit and do not allow phone usage for more than 30 minutes or 1 hour," one parent suggested. Another added, "Try sitting with your child when they use the phone." Yet another proposed an alternative: "Obtain printed materials from nearby shops and encourage your children to work with those instead of using the phone."
As I observed their discussions, none of the solutions seemed entirely convincing to them.
I still believe that children in government schools are somewhat shielded from excessive phone use. This is due to limited access, as most families have only one or two smartphones that children can use when their parents return from work. Additionally, the rising cost of mobile data has imposed some constraints. However, middle-class families face a different scenario. Children as young as six months start using their own smartphones, and by the age of 6 or 7, they persuade their parents to grant them full-time phone access. When parents themselves are constantly engaged with their phones, their advice to their children not to use them often goes unheeded. Sometimes, this leads to heated discussions and, at times, family conflicts. This pattern repeats, and eventually, both parents and children accept this status quo.
This situation represents one of the existential crises of our time. Simple solutions don't suffice. It may be time for Homo sapiens to adapt to the technology that has inundated our lives. The truth, as depicted in films like "The Social Dilemma" and "The Social Network," reveals an unsettling reality: phone and app companies utilize recent insights from psychology and neuroscience to instill deep-seated habits that keep us glued to our phones. The more time we devote to our phones, the more profitable these companies become. On one side, these companies invest billions in developing apps designed to keep people on their phones for hours. On the other hand, parents advise each other to limit children's phone usage. It's an imbalanced struggle, and while a few may escape its grip, for most, it's an uphill battle. When this question was posed to me, all I could do was smile because, like others, I also struggle, and I'm uncertain about the way out.
To me, the solution appears to be adaptability and more judicious use of this technology. Avoiding it may no longer be a viable option. Citing Pandit Rahul Sankrityanand from his classic book "Volga se Ganga Tak," he likens this technological transformation to a generation trading copper tools for stone tools—an irreversible journey. Throughout millions of years of evolution, the human brain has displayed an incredible capacity to adapt and develop the skills needed to confront new challenges. This gives hope that we will eventually control technology, rather than allowing mobile phones to control us.