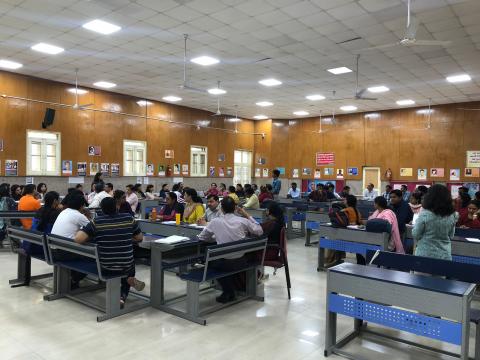 Teachers as Architects of Dreams: Nurturing Students in Delhi's Schools
Some time ago, I read a thought-provoking phrase by Friere which said that instead of making children learn the name of the capital, we should teach them how living in the capital city provides access to various facilities that are not available elsewhere.
Life in a capital city offers greater opportunities to people living there compared to those living elsewhere. However, for students, life in the capital is even more special. Delhi, besides being India's political capital, is also renowned as an educational hub, attracting students from all over the country. It houses some of the most prestigious educational institutions, such as Delhi University, Jawaharlal Nehru University, Indian Institute of Technology, Jamia Millia Islamia, All India Institute of Medical Science, and more.
In this article, I will focus on how Delhi has become an educational hub for the poor and disadvantaged sections of society by creating a world-class public education system. Moreover, I will highlight the significant role played by teachers in nurturing the dreams of these students.
Let me share a story with you.
Around eight years ago, Ashish Kumar came to Delhi from a neighboring state. He used to work as a photographer in his village, but the income was insufficient to support his family. In Delhi, he found a job at a printer's shop but had to live alone as his salary was not enough to support his children's education and accommodation. He had no choice but to leave his family in the village. While commuting to his workplace, he noticed a massive building coming up, which turned out to be a Delhi government school. One day, he visited the school and was surprised to learn that there was no fee for children to study there. This was a turning point in his life, and he had a new dream - to bring his wife and two children to Delhi and have them study in a reputable Delhi government school. He was relieved that he could save money for his family's food and accommodation. Two years ago, he brought his family to Delhi and got his children admitted to a nearby government school. This family now has a new dream - the dream of a bright future.
The sprawling new buildings of Delhi government schools are shaping millions of such dreams. As Friere said, it's not important to know the name of the capital, but to understand how living in the capital provides access to institutions that shape one's life.
As teachers, we come across hundreds of such stories while interacting with our students. School classrooms are not merely places for learning; they also protect and nurture the dreams of millions of students who have faith in this system. However, the dilapidated status of school buildings and the dwindling number of quality teachers have stifled the dreams of millions of people across various states in India. There are only a few states where the government school system has survived, and Delhi is one of them.
The new academic year has begun, and thousands of students have joined us from across the country. It's another opportunity for us to shape dreams in our classrooms. I strongly believe that there cannot be a greater gift than the gift of a dream. Although sprawling school buildings, clean environment, access to clean drinking water and toilet facilities and print-rich culture play their roles in shaping and nurturing dreams, teachers are the real architects. Their disposition can either make or break dreams. As teachers, we do a lot of things - we plan lessons, develop teaching aids, prepare worksheets, integrate technology into our teaching and so on. However, can we add one more thing to our list? Can we reflect on how our conversations with students have helped them develop dreams of a better future and a dignified life?
When we, as teachers, leave our classrooms knowing that we have helped protect and shape the dreams of our students, we empower them to excel and achieve great things. This is the true essence of what Friere meant when he spoke about how capital shapes life, and it is the role of teachers to give meaning to this concept. In our school, it is the teachers who shape lives and make a difference in the world.