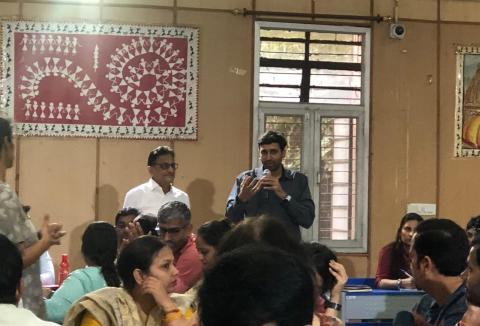 By trolling teachers, online learning will be discouraged.
A controversial video by a celebrated teacher Dr Vikas Divyakirti has gone viral. Social media is grilling him on this issue. Celebrities and politicians used to make headlines for such bites in the past. In India, it has not been common to discuss the content taught in the classroom on a public platform. As a result of online teaching, the sacred space of classroom teaching has become public. The future of education lies predominantly online; there is no reverse mode.
In this post, I have written that once teaching and learning become a part of the public domain, public scrutiny cannot be ruled out. Online education holds the future of the country. It will lead to the creation of superstar teachers and it will also cause greater vulnerability which many teachers will succumb to. I have argued for the regulation to protect teachers in the online space.
The declining Educational infrastructure both in school education and in higher education can be seen as the precursor for the upcoming boom for online education. The pandemic has expedited the process. Observing the government policies closely also suggests that the government wants online education to become the leading mode of imparting education to children in India. There are reports where universities force teachers to conduct classes both in online and offline mode. Schools are regularly being instructed to conduct classes in online mode. Whether we want it or not, online teaching is the reality.
It can create superstar teachers, as I have written earlier. A few such teachers have already been created, including Dr. Vikas Divyakirti. Of course, what appeared to be sacred in the four walls of the classroom is now content in the public domain. Criticism cannot be ruled out. If online teaching brings massive popularity to teachers, it will also bring massive vulnerability. Popularity everyone enjoys but when teachers are trolled, it becomes difficult for them to survive.
I think this is just the beginning. In the online space, teachers will eventually have to accept that popularity comes with vulnerability. However, many teachers would succumb to this. It is joyous to teach when the teacher finds the flow... analogies and examples often follow this flow. Trolling will disturb the flow.
The flow must be protected. Government is also interested in promoting the culture of online teaching and learning. There must be some regulation to protect teachers in online spaces. Well, I do not demand absolute freedom from the teachers. Teaching content available in the public domain will attract public scrutiny. However, the judgment must not be based on a 45 seconds video clip. A teacher invests his life to develop a career in teaching. Those who have watched Dr Vikas Divyakirti for 45 hours, will have no option but to be thankful to this one of the finest teachers India has. Through his teaching, he has enlighted millions of people across the age group on important contemporary issues. As a History graduate, after watching his videos on issues such as the Israel-Palestine conflict, Article 370, and Citizenship Act, I feel more informed. If we do not intervene, we will miss out on creating many Doctor Vikas and that will be a great loss for the country.