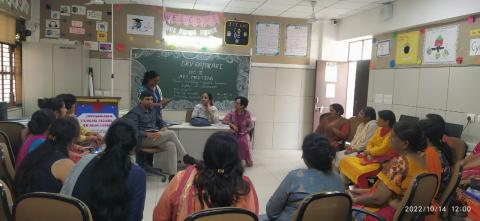 Shaming Vs Self esteem
18 year old Aarohi was trying to hide her tears while speaking to the principal. She was standing beside the principal. The teacher accompanying her was standing next to her and her mother was also around.
What's the matter? Ask the principal!
"She has not been coming to school. I tried a lot, and after several phone calls, finally, she came with her mother. She doesn't want to study. Even last year, she remained absent most of the time"
Teacher yells!
Aarohi was shaking, she was trying to speak but she could not.
The principal was in a fix.
While on one hand she wants to support her teacher, on the other hand, she wants to listen to the student. She tries to console Aarohi.
"Ma'am bahut bezzati karti hai" (Ma'am insults me)... Aarohi utters somehow.
Dekho ma'am in bachchon ko ulte teacher par hi ilzam laga rahi hai. Ma'am ise likhna bhi nahi aata hai ( Look at these children they are blaming teachers, she doesn't know how to write)
The teacher hands over a pen and paper in the hand of Aarohi and asks her to write an application.
Aarohi knew it was another attempt to humiliate her, so she turned silent and didn't write.
After two years of the pandemic, many children struggle to read and write. The problem is acute if such a child is found in board classes. The irony is…Most schools have such children in the board classes, i.e class 10th and 12th.
Teachers' performance is measured against the performance of the students in the board classes. Teachers appear to be helpless. Who will listen to them when a child who can't read and write fails the board exam? As per the norms, responsibility will be fixed with the teacher.
The question however is…Can the humiliation of students solve the problem?
Aarohi counts avoiding humiliation as a reason for not attending school.
Our school has a large number of adult students. Some of them have crossed 18 years. Anything can work with them, but not the humiliation. Their self-esteem, which is already in a shattered state, gets devastated. It is impossible to motivate someone without protecting their self-esteem.
What constitutes self-esteem?
Natha Branden writes "Self-esteem is confidence in our ability to think, confidence in our ability to cope with the basic challenges of life and confidence in our right to be successful and happy, the feeling of being worthy, deserving, entitled to assert our needs and wants, achieve our values, and enjoy the fruits of our efforts."
Now, look at the life of our students…Perhaps school is the only place where they have an opportunity to build self-esteem.
Commenting upon the same-based rules that most often our family and schools follow, Therapist John Bradshaw writes "Shame-based rules deny the 5 freedoms: the power to perceive, to think and interpret, to feel, to want and choose; and the power to imagine."
Despite the fact that the situation in the school puts teachers under tremendous pressure, I do not believe that shaming the student is an option. We do not have an option but to help our students build self-esteem from scratch. The only thing I speak with students who struggle with reading and writing in the higher grades is.... It's okay. You can learn something you don't know today. Today, I know many things that I did not know before. Make some effort and you will succeed. Are there any other options than to help our students build self-esteem?