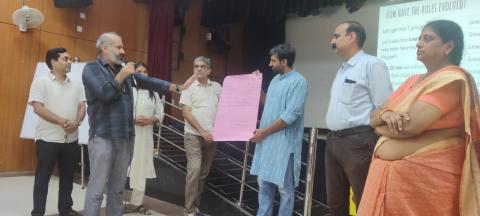 Intellectual isolation brings the death of Professional Growth; Delhi shows a ray of hope.
More than 30 Mentor Teachers cleared the UPSC written exam for the post of principal recently. They are all set to face the interview. Two mentor teachers have also bagged the prestigious Fulbright Fellowship, taking the total tally in the last 8 years to 20. This is almost 40 per cent of the total fellowship given during this period at all India levels. In India, we have approximately 10 million teachers. The achievement of Delhi Government School teachers in all India competitions is prominent.
What's the reason behind it?
Most people are awestruck by the splendid school buildings, Delhi Government has built. Some people are aware of the mindset curriculum it has introduced. But the work in the field of Teacher Professional development has remained unnoticed.
Among the most popular programs that have produced these path-breaking results are the Mentor Teacher Program and the Teacher Development Coordinator (TDC) program. And the secret behind this is the opportunity for professional networking for teachers.
The intellectual isolation of teachers kills their opportunity for professional growth. For a long time, the opportunity for professional growth was mistakenly understood as the occasional in-service training conducted by the SCERTs and DIETs. The MT and TDC programs have created a continuous opportunity for professional growth. Both of these programs require teachers to engage with teachers and this creates a continuous need for learning. One of the common feelings every mentor teacher shares…I need to learn! After teaching for a decade, if a teacher feels that he/she needs to learn, it's impressive. This is phenomenal in the sense that somebody else is not saying…YOU NEED TO LEARN. It's the personal discovery of each teacher who is working as a Mentor or TDC. The thirst for learning is fulfilled by the plethora of learning opportunities. In other forms of In-service teacher training, it's a supply without a demand. And thus, it fails to make some impact.
More research will be required to understand how these two programs have created this learning need. One of the reasons, I see, is that it has put the teachers in a larger network of teachers. In this network, teachers get the opportunity to work with one another and in the process, they identify the learning needs. In isolation, a teacher may believe that he/she has all the skills and knowledge of a great teacher, but when he/she becomes a part of a larger network, he/she realizes there's a lot more to learn.
It's not that important learning opportunities have not existed earlier. It's for the 1st time that it has become accessible for the teachers. In this context, the observation of the National Commission on Teachers is worth quoting
"The Report of the National Commission on Teachers (1983-85) recommended that strategies used for in-service education must be imaginative, bold and varied. It further states that the most effective among them is the services organized through the school complex. The idea of a school complex...put forward by the Kothari Commission...intends to link primary and secondary schools with a view to pulling resources and including the educational process. The commission mooted the idea of Teachers' Centres that could function as "...a meeting place for teachers located in a school that has resources that it would like to share with others...it is a forum where workshops of very practical nature are organized for teachers of all faculties and of all levels; it pools in the talent of all teachers of various schools who act as resource personnel for centres' workshops and it arranges book fairs. What teachers need most "...is a change in the climate of schools, an atmosphere conducive to educational research and enquiry" (Position paper, national focus group on teacher education for curriculum renewal; 05)
This is exactly what the two programs, MT and TDC, have accomplished. It has started organising workshops of practical nature. SCERT, DOE, DIETs and Schools have come together to break down intellectual isolation. Now it is a choice, not a compulsion. Every teacher who wants to grow professionally has a well-established network of intuitions for hand-holding. This chain has a missing link. We also need to bring universities on the board. Hopefully, with the advent of Delhi Teacher University, we will soon plug this hole.