DO NOT WALK ALONE
  Anupama Khatter, TGT English, 
  SKV I C- Block, Janakpuri
 
We have an impact on many people in our life. A great idea comes from great and everlasting influences. As a teacher, I have spent 23 years serving the society. It's a dilemma that who has shaped my personality? Is it my strength or my challenges? Introducing innovative ideas, techniques, and skills has never been easy for a change maker but having guts, confidence and an urge to do something have been my companions. Working as an Assistant Teachers gave me an opportunity to deal with young students and working as TGT has groomed more. I have my own strengths and weaknesses so I never walked alone along the path of winning the hearts of my students.
A personal connect with each and every student may not seem to be possible in today's scenario of managing multiple tasks as a teacher but only this connect has made me a winner. So what if I have to free myself in lunch and other free periods for those who often come with personal and learning problems. So what if lots of charges and workload has been thrust upon. We do not realize that we often give and receive the lasting impression on our students as well.
An opportunity came in the form of three days workshop at SCERT for learning manager programme which I thought of aimless and boring, but to my utter surprise, I really enjoyed and learn to unlearn the traditional practices which kill the curiosity and urge to learn among students. A group of teachers was made who could bring great ideas and discuss teaching learning challenges. When I shared their challenges and tactics to cope up in a two-day workshop organized by me as an LM (Learning Manager) in the school hall. One TGT Hindi teacher said "Meri weakness hai ki mai bacho ki bato me jaldi a jati hu. Agar woh perne ko mana karte hai to mai maan jati hu".
It was her strength actually which was realized in the discussion. When I asked about the primary teachers challenges they straight forwardly volunteered "Madam we too want to create our own worksheets like Pragati and we want a programme to be organized in our own way on 14th Nov. We will introduce our innovations if we are given a chance too". I remained a silent observer and indeed an admirer to know
that I am not walking alone. All the Govt. teachers are really working hard and are on toes just to achieve the goal of pupils learning.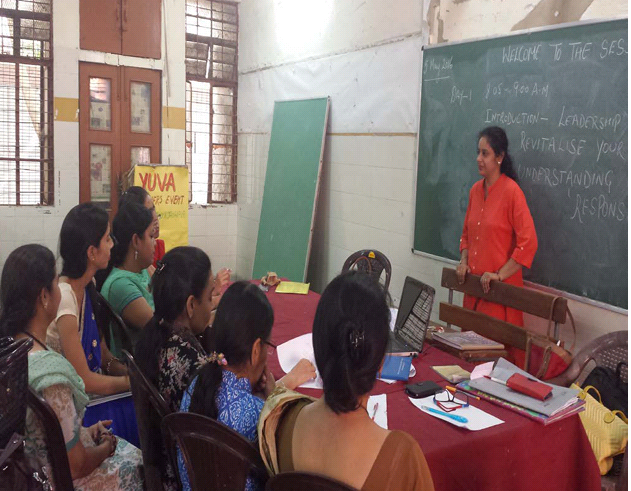 A connect with students was everlasting as with different faculty members. Interestingly science faculty stated that syllabus should be interlinked with the continuing classes. During the activities organized for them the teachers tried to save an egg from the second floor was really worth watching. Similarly, a situation to save the colleagues on MARS was given to Sanskrit and Hindi teachers explaining the importance to team work and a teacher pulled her duppata and with an improvised technique hit the jackpot.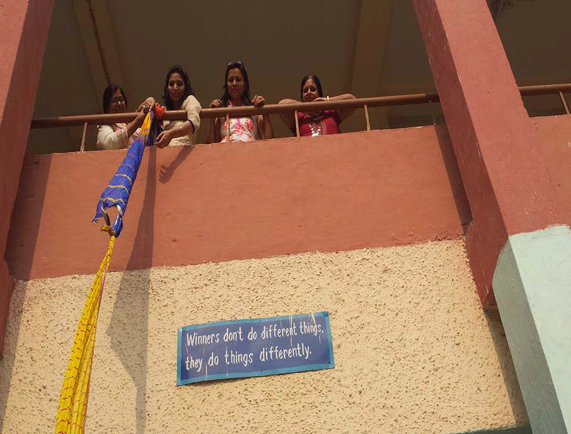 If the students want to learn and teachers intend to teach where does the problem lie? Do we really need to cover all the aspects in one class in stipulated time? So it all killed the creativity when completion of the syllabus is a mission.
In our schools imparting moral values among students are now our own responsibility. So instead of reading the moral education books in absentee period I gave an idea to the students of class 8th to arrange a cardboard box covering it with used charts and plastic sheets. They made a whole at the top just like a ballot box. We placed it in the prayer and in two to three weeks I received 50-60 letters of a good act done by class 6th to 12th girls. As a result, a student returned Rs.1500 found in the lobby and a wallet of a teacher, students felt sorry when they yelled at parents. A girl helped another school student who fell in a ditch, trees were adopted by putting slips on their branches and so on.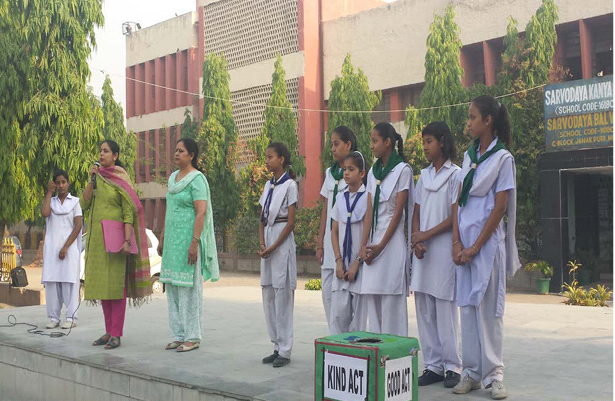 So transformation begins….. few teachers thought that the box will be ornamental, but an announcement for the reward by the Principal boost my morale.
A teacher can never walk alone because she has confidence within and enlightens spirit to remain undisturbed from the challenges like a flute seller keep of playing his music to sell the wares on the crowded street like a pipe piper who attracts all the children to follow him. No external challenge can defeat his determination and indomitable will. A pebble in a shoe causes a great pain rather than stones lying on the road. So I shared my view in one of my LM meetings with the teachers that this message is very symbolic, the internal challenges are to be one within rather than the external challenges. Learning Manager Programme has given the platform in which we were walking already without realizing that we do not walk alone.