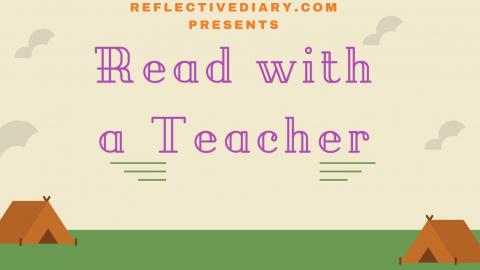 1 Year of Reading Together at ReadWithATeacher
I was thinking about it for a long time. It often happens when you like doing something you wish to share with others. For instance, take the example of poets, they always wish to share their poetry with other people. If you watch a movie, you wish to share the stories with others. I think human brains are designed for this and perhaps this is one of the reasons why we call humans social animals. Whatever a person has, he/she wishes to share with others.
Coincidentally, I have been on an academic journey which requires reading a lot of books. Every time I read a book, I wonder how people live without reading it. So, I have always tried to share what I read. Earlier the sharing was with close friends and family members.
ReadWithATeacher is the organized form of sharing what we read. Fortunately, my passion in this field matched that of Chandan Jha. He has a better collection of books. When I shared the idea with him, he immediately agreed to it and the journey began.The credit for the sustainability of this program goes to Chandan Ji. There has been a time when I felt like withdrawing, he kept me on track.
At the beginning, I could not have imagined what ReadWithATeacher would be able to accomplish today. I feel the beginning of great work is important. As a result, it keeps attracting better things to itself.
As I stated, It started with the idea of sharing the reading. I realize now how important it is. My opinion is that teachers need to develop reading habits the most. While reading helps the rest of the world improve their lives, when teachers read, millions of children's lives are improved as well. Unfortunately, there isn't much passion for reading in the profession of teaching. And I see a reason for this. We have associated reading with passing the exams. For 25-30 years, we read so that we can pass the exam. It is not necessary for a teacher to read because he/she has already passed the exam, and above all, he/she is teaching. For 25 years, no one asked why we should read ? Old habits die hard! A lot of effort would be required to motivate teachers to read. We have 10 million teachers in India. We have hardly 10 writers who write in this genre.
Here are some reasons some of my esteemed friends have given for reading!
"Reading is important to trigger your brain cells, to nurture your self as an evolved human,to be more accepting..... To promote a culture of reading begin with yourself....share the knowledge with peers, students,family.Hand a book to a child,talk about it... do not preach!" Kamayani Joshi
"Reading is going places without moving our feet. Books are friends that neither leave nor break our trust. Writers write them, the readers finish them… Books are like healthy smoothies, nourishing our thoughts n being" Monika Jagota
How to read more
BC Thakur Ji said, reading leads to more reading. This is true. What helps more is the public commitment. Each one of us has an audience; teachers and students! We can promise them… Once every month, we will share the story of a book that we read. The next question is when to read, I don't have time. I have been telling people that I often listen to books. After several conversations with people, I have realized that this is a special ability. Not everyone is comfortable listening to the books. Well, then I share a strategy which I found in the book, The Atomic Habit. Clear says that don't depend on motivation, develop the habit of reading. The outcome of the motivation-dependent reading is many unfinished books lying in your house. He suggests developing an atomic habit. Don't commit to reading 10 pages, commit to reading one page every day. It will take one minute. No one stops you if someday you wish to read 50 pages. But, ensure that in any circumstances, you read a page every day.
I have tried this. It's magical. I finished three books based on atomic habits. I read a literature book every night before I go to sleep. Using this habit, I read; Kai Chand the Sare Asman, Aadha Gaon and Niththle Ki diary. I strongly recommend you try it.
The plan ahead for reading together.
I feel it is our responsibility to take it to as many teachers as possible. Each one of you should have your session of ReadWithATeacher, or with any other name. One of the biggest advantages is that by the end of the year, you will feel proud that you have read 12 books. Try once then you will feel what greater satisfaction it brings.
You Have the book, you have the audience, you have the support, what are you waiting for?
We will continue this journey and will also try to take it to the students. I want to intervene at the right time in the lives of the students to tell them "Reading is not about passing the exam". Reading will also help you pass your exam, that's its obvious result. I seek support from each one of you to take this idea to each teacher and student. I also want to state that ReadWithATeacher is not an Idea that I wish to have a patent for. It belongs to each one of us. We have just organized reading, nothing else! Reading carries a lot of value, that everyone knows even the one who doesn't read.
In the last paragraph, I would like to share the thrill of this journey. When Pandey Sir, decided to read, It was a thrilling moment. We never imagined it. Few people were not visible much on the screen but stood strongly behind the curtain to support this endeavor and that includes Suman Relan Ma'am, Rohit Upadhyay, Meenu Gupta and Kadambari Lohiya. I would also like to mention a special participant, Upma Mahajan, she attended most of the sessions. One of the most important things I learned is, readers, don't have egos. Many of my senior colleagues, who have outstanding experience and achievements, have expressed interest in reading to us. I truly appreciate their spirit.