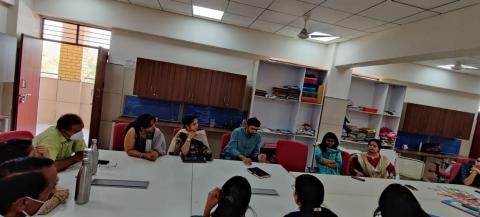 The magic of understanding the structure of a discipline
I came across an intriguing idea in the book, The process of education, which is "teach the structure of a discipline". Jerome Bruner writes, " It seemed natural that emphasis should shift to teaching basic principles, underlying axioms, pervasive themes, that one should "talk physics" with students rather than "talk about" it to them" It was as if I got a theoretical explanation for what I had been doing for a decade. In the local words, the structure of a discipline is known as 'general baten' (Common conversation). I talk for hours about how the content in a subject has been organized? Who decides what should be in the textbook, and what are the principles that govern the selection of the content? Sometimes, in between, the student comments…Sir, padhoge kab? (Sir, when would you start teaching?)
We tend to stick to mechanically delivering content in our classrooms. In most cases, teachers are not aware of the principles of the discipline. Even in-service teacher training is geared towards improving delivery mechanisms rather than enhancing disciplinary knowledge.
But, a teacher equipped with the knowledge of the structure of a discipline creates magic in the classroom. The task is not easy. One has to study and engage in the higher pursuit which requires both passion and commitment to the discipline.
Let me explain what I mean by the discipline's structure.
Take the history textbook of grade 9 from NCERT as an example.
The textbook has been named "Contemporary World". It discusses the evolution of the ideas which govern the contemporary world. Contemporary means- "living or occurring at the same time". For Instance, I am the contemporary of Sachin Tendulkar. Both of us exist in the same period. One might wonder, however, how the events of the French Revolution are contemporary to us? Our lives are still governed by the principles of liberty, equality, and fraternity established by the French Revolution. In this sense, our ideas can be considered contemporary to those of the French Revolution.
In class 9th History textbook, there are three sections. In the 1st section, the first three chapters examine the development and growth of three prominent ideas: the democratic ideas of the French Revolution, communism in Russia, and Nazism in Germany. These three ideas have significantly shaped the contemporary world we live in. Another three chapters in section two take us to a new approach to knowing history through the lens of the proletariat. We understand the plight of pastoralists, tribals, and farmers in both colonial and imperial countries. The last two chapters in section three are about historiography. The world of cricket and clothing can also tell us about socio-political and cultural issues.
All these chapters explain a simple question…Main aisa kyon hu? ( Why am I like that ?). Thus, History explains the most intriguing question of our existence, we often try to find it in spirituality. The point is that this is not deterministic, but it demonstrates how difficult it is to design a life or a society that is not a logical continuation of the historical development. In all sincerity, I want to acknowledge that students have shown utmost interest in these stories that I share with them. It transforms my class into- Sir, aap yahi sab batao, ham kitab khud padh lenge. ( Sir, tell me all this, we will read the book ourselves)
Jerome Bruner has explained this phenomenon very powerfully in his book, The process of education. One can develop an understanding of the structure of the discipline and I suggest some materials here:
National Curriculum Framework

National Focus group reports

Educational Policies

Some classic books of the concerned discipline, in social science - Social Science Learning in School: Perspective Challenges.

Attending conferences and listening to related talks, etc.
In Bruner's words "Grasping the structure of a subject is understanding it in a way that permits many other things to be related to it meaningfully. To learn structure, in short, is to learn how things are related"